Step 1:
Connect your 'Envisense CO2 Monitor and datalogger' to your computer with the supplied cable. Your computer will automatically indicate when your Envisense datalogger is connected. To read out your Envisense datalogger, click on 'choose file' in the top right corner of the dashboard.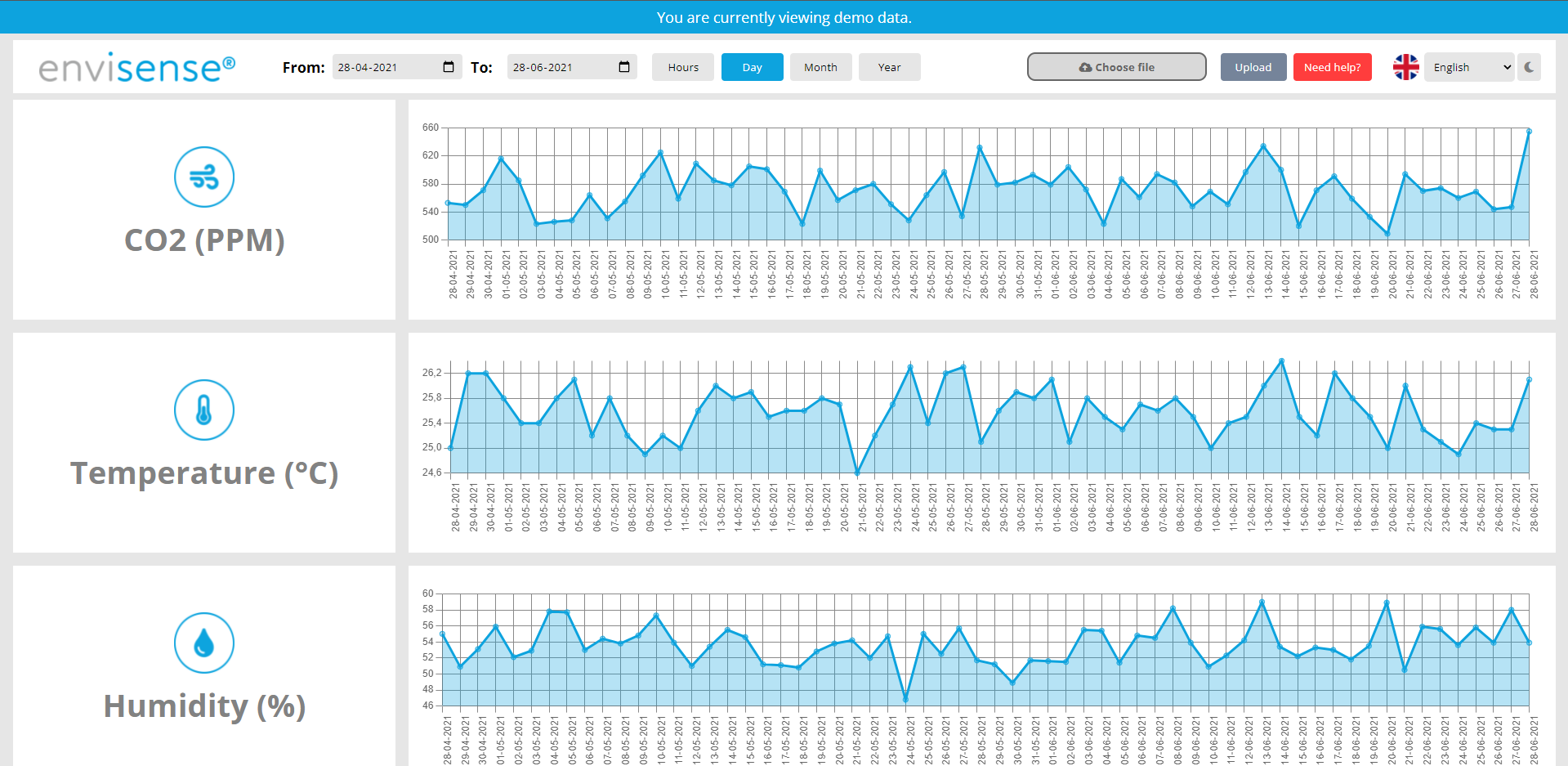 Step 2:
Click on choose file and open the folder (ENVISENSE) and then select the .csv file named 'DATALOG'. This file contains all the stored data of the measured air quality. ATTENTION: Do not edit the 'DATALOG' file and upload it directly from the 'ENVISENSE' folder.

Press the button 'upload' and the dashboard will be filled with all the measured data. You can now choose which time period you want to read out by entering the start and end times. You have an overview of the CO2 level (PPM), temperature (degrees Celsius) and relative humidity (%). The CO2 level for a healthy indoor climate is between 350 and 800 PPM.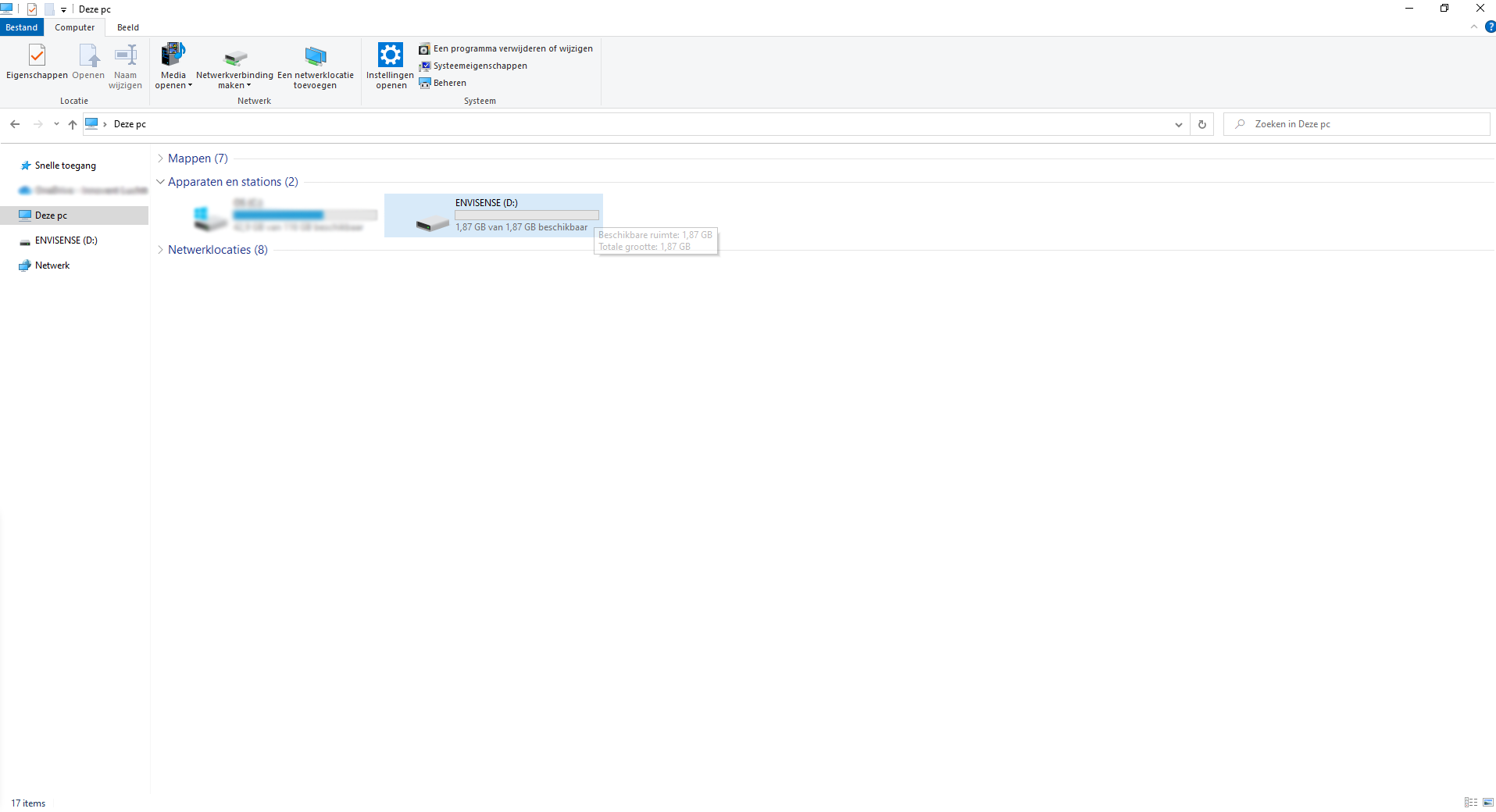 Step 3:
For a detailed overview you can choose the display; hours, days, months and years. You also have the option of adjusting the language setting. This can be found at the top right of the screen. Do you have any questions about the Envisense datalogger? Please contact info@envisense.co.uk.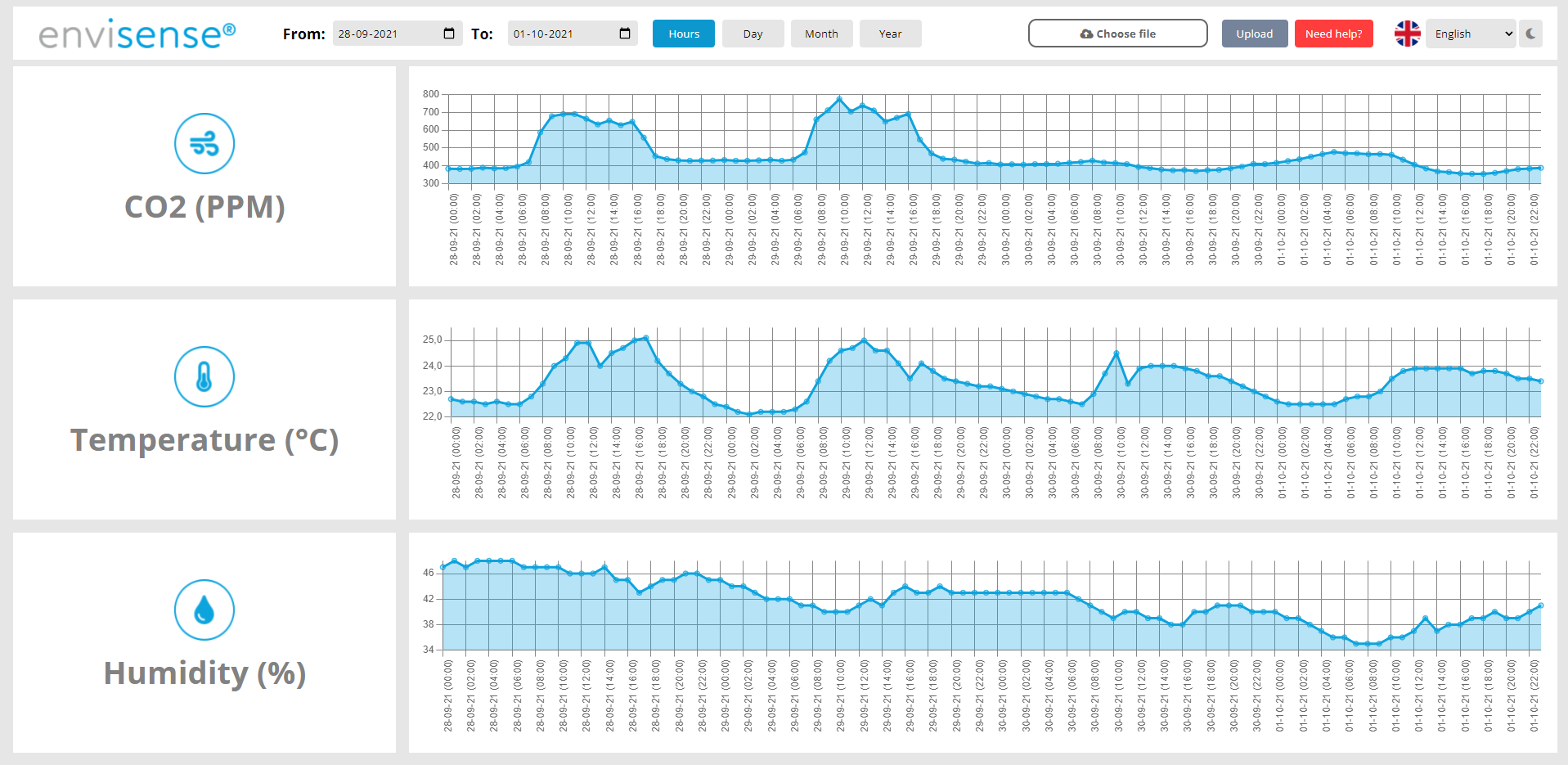 Do you want to erase the data from your EnviSense monitor?
If you want to erase all captured data from your EnviSense monitor you must first connect the monitor to your computer. Next you find the "ENVISENSE" drive and delete the file DATALOG.CSV. All captured data is now erased. The Envisense will automatically create a new file when you use the monitor again.
Stap 1:
Sluit uw 'Envisense CO2 Monitor en datalogger' met de bijgeleverde kabel aan op uw computer. Uw computer geeft automatisch aan wanneer uw Envisense datalogger is aangesloten. Om uw Envisense datalogger uit te lezen klikt u rechts bovenin het dashboard op 'bestand kiezen'.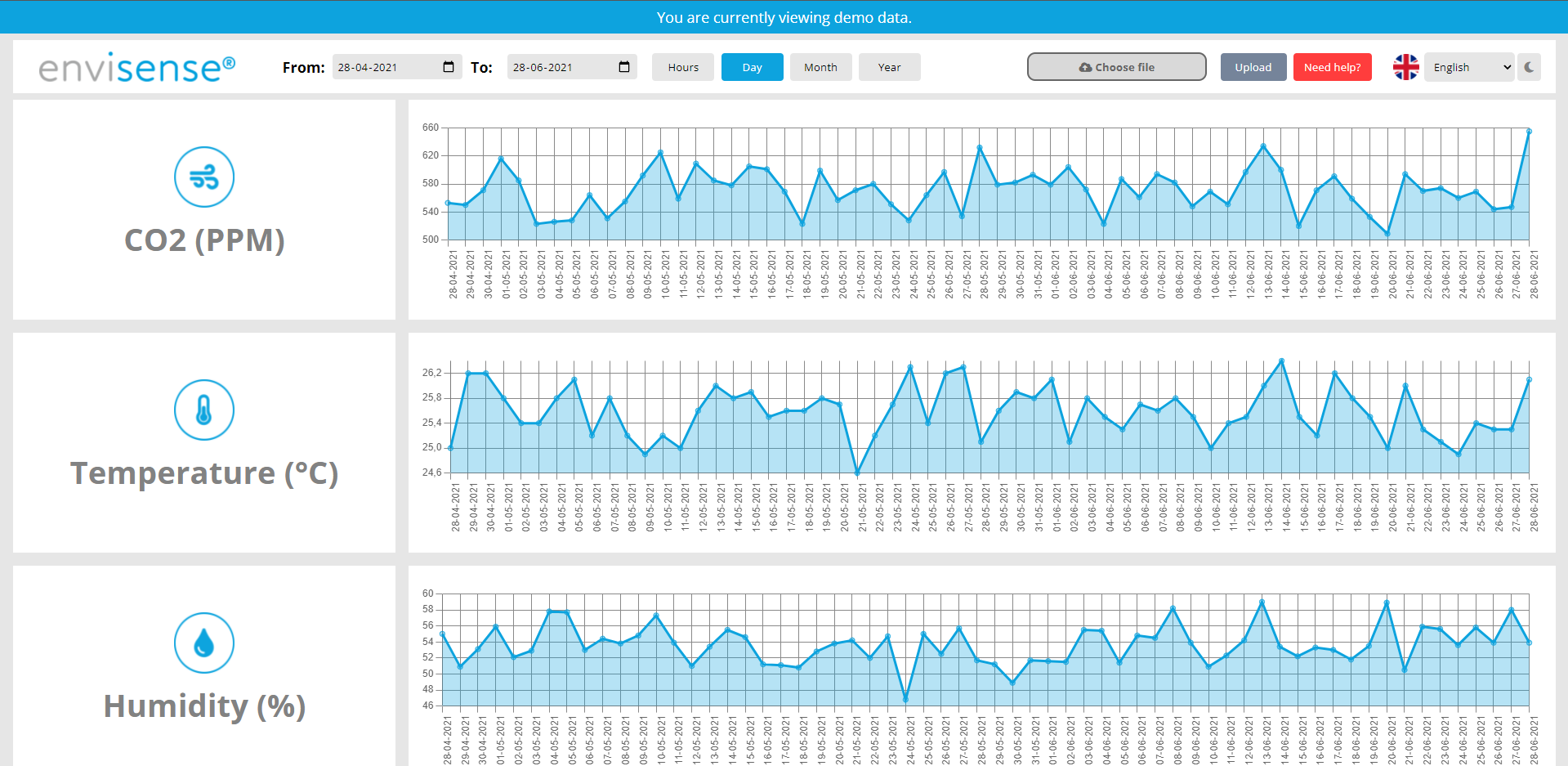 Stap 2:
Klik op bestand kiezen en open het mapje (ENVISENSE) en selecteer vervolgens het .csv bestand met de naam 'DATALOG'. Dit bestand bevat alle opgeslagen data van de gemeten luchtkwaliteit. LET OP: Bewerk het bestand 'DATALOG' niet en zorg dat u het direct vanuit de map 'ENVISENSE' upload.

Druk op de knop 'uploaden' en het dashboard wordt gevuld met alle gemeten data. U kunt nu kiezen welke tijdsperiode u wilt uitlezen door de begin- en eindtijd in te voeren. U heeft een overzicht van het CO2-niveau (PPM), temperatuur (graden Celsius) en de relatieve luchtvochtigheid (%). Het CO2-niveau voor een gezond binnenklimaat ligt tussen de 350 en 800 PPM.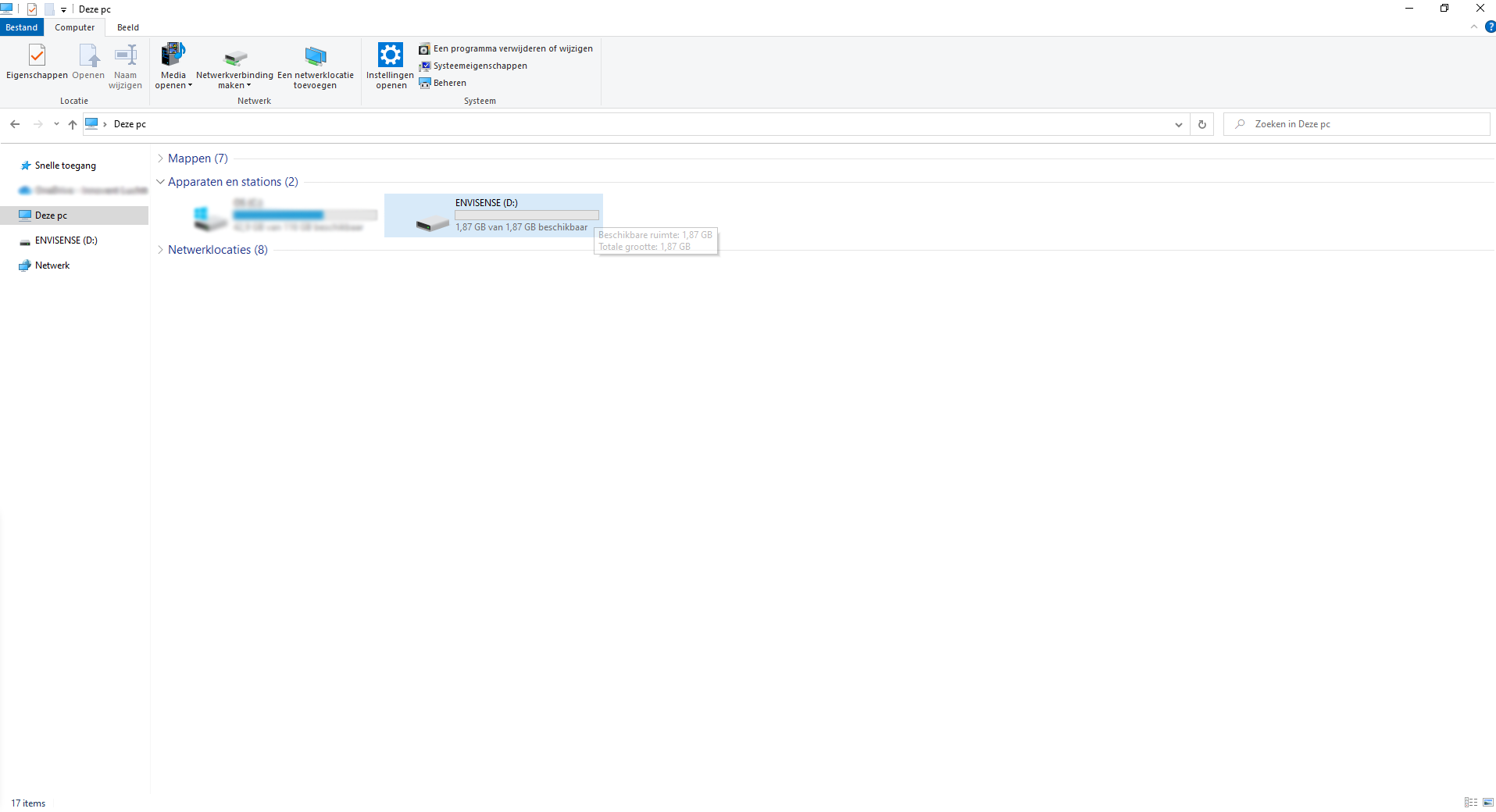 Stap 3:
Voor u een gedetailleerd overzicht kunt u kiezen voor de weergave; uren, dagen, maanden en jaren. Ook heeft u een mogelijkheid de taalinstelling aan te passen. Deze vindt u rechts bovenin. Heeft u nog vragen over de Envisense datalogger? Neem dan gerust contact op met info@envisense.nl.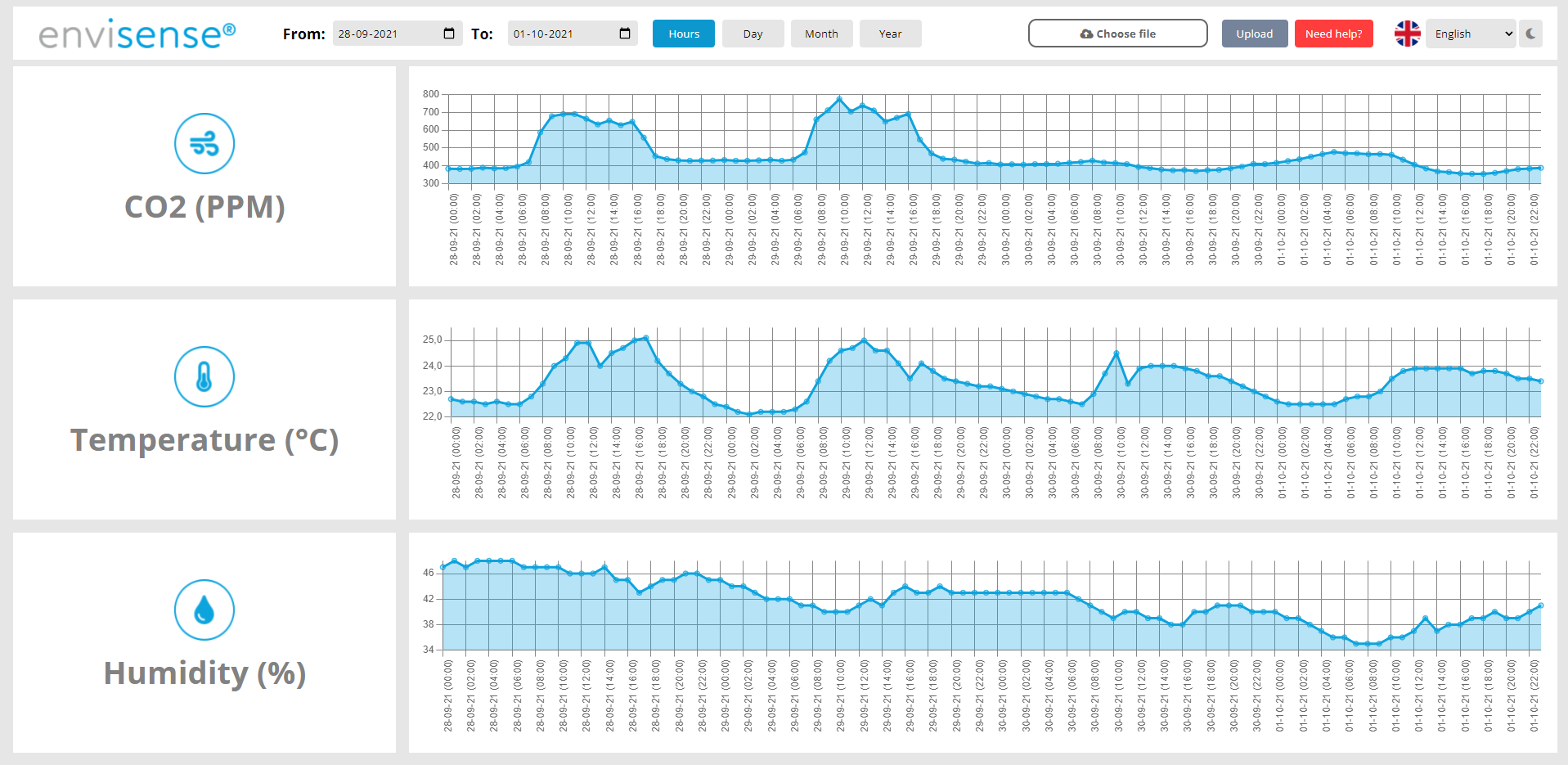 Wilt u de gegevens van uw EnviSense-monitor wissen?
Als u alle gegevens van uw EnviSense monitor wilt wissen, sluit u de monitor eerst aan op uw computer. Ga naar het bestand 'EnviSense', dat zich ook automatisch opent, en verwijder het .csv bestand met de naam 'Datalog'. De EnviSense zal een nieuw bestand aanmaken wanneer u de monitor weer gebruikt.
Schritt 1:
Schließen Sie Ihren 'Envisense CO2 Monitor und Datenlogger' mit dem mitgelieferten Kabel an Ihren Computer an. Ihr Computer zeigt automatisch an, wenn Ihr Envisense-Datenlogger angeschlossen ist. Um Ihren Envisense-Datenlogger auszulesen, klicken Sie auf "Datei auswählen" in der oberen rechten Ecke des Dashboards.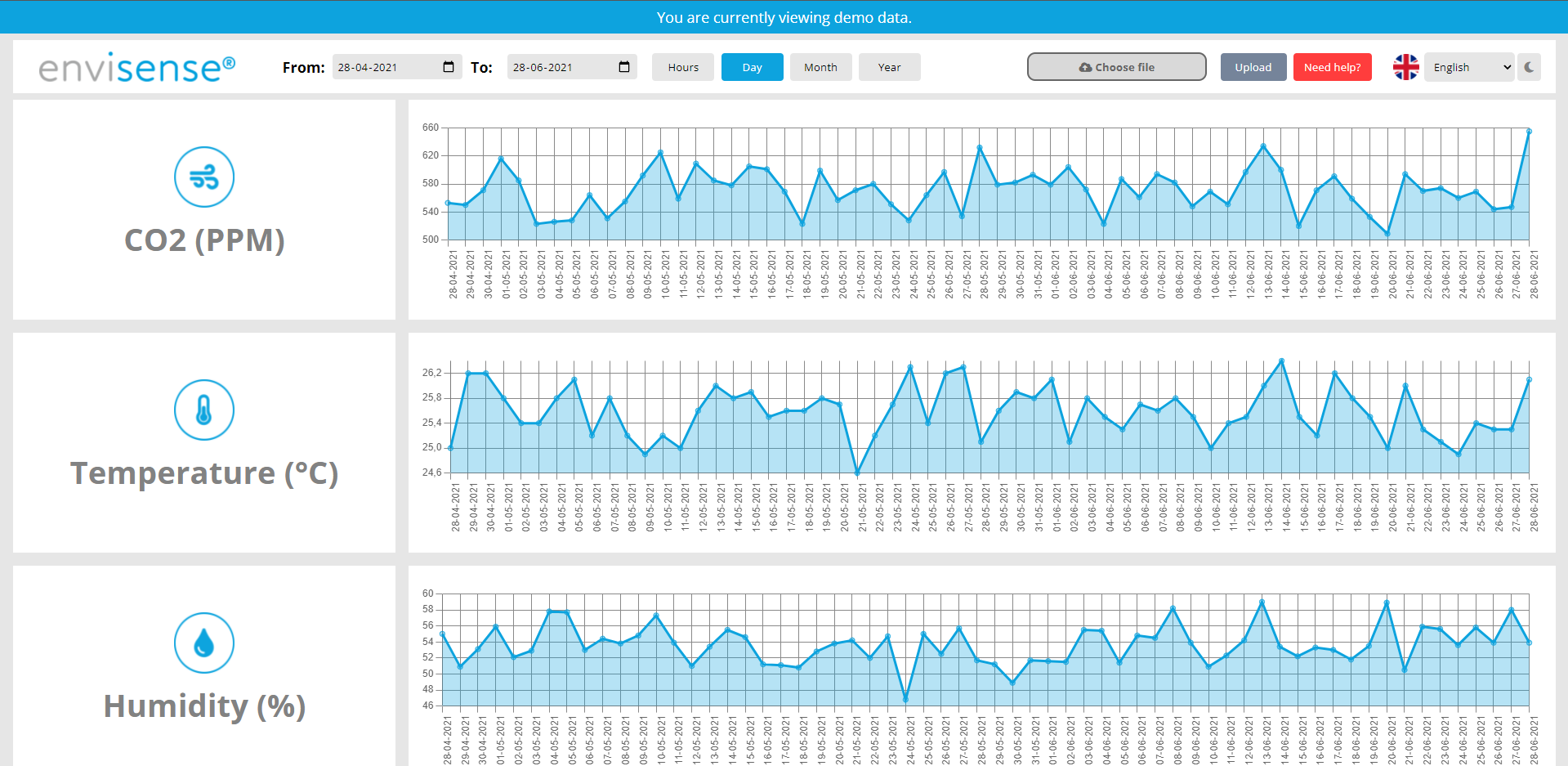 Schritt 2:
Klicken Sie auf Datei auswählen, öffnen Sie den Ordner (ENVISENSE) und wählen Sie die .csv-Datei mit dem Namen "DATALOG". Diese Datei enthält alle gespeicherten Daten über die gemessene Luftqualität. ACHTUNG: Bearbeiten Sie die Datei "DATALOG" nicht und laden Sie sie direkt aus dem Ordner "ENVISENSE" hoch.

Drücken Sie die Schaltfläche "Hochladen" und das Dashboard wird mit allen gemessenen Daten gefüllt. Sie können nun wählen, welchen Zeitraum Sie auslesen möchten, indem Sie die Start- und Endzeit eingeben. Sie haben einen Überblick über den CO2-Gehalt (PPM), die Temperatur (Grad Celsius) und die relative Luftfeuchtigkeit (%). Der CO2-Gehalt für ein gesundes Raumklima liegt zwischen 350 und 800 PPM.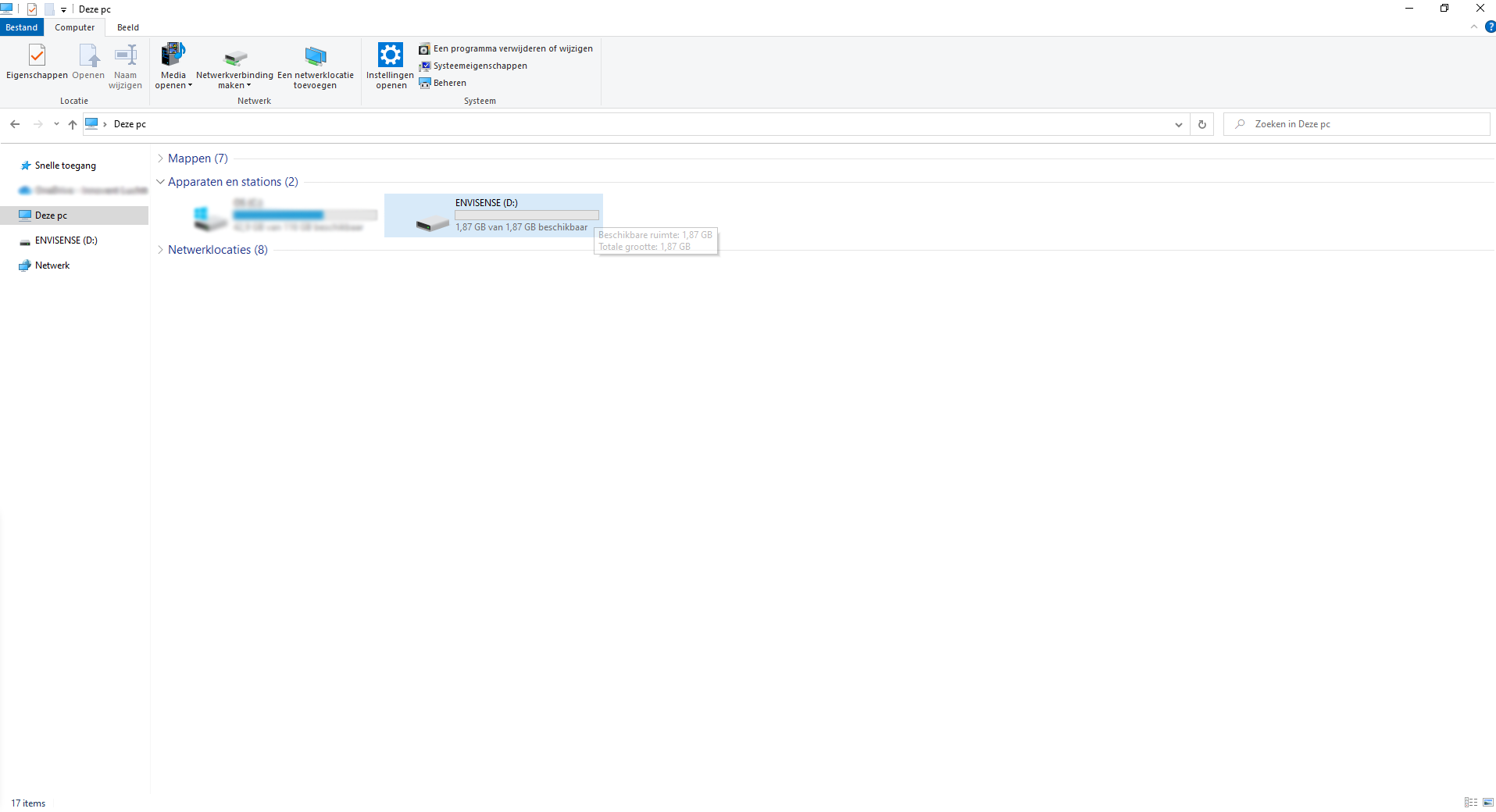 Schritt 3:
Für eine detaillierte Übersicht können Sie die Anzeige wählen: Stunden, Tage, Monate und Jahre. Sie haben auch die Möglichkeit, die Sprache einzustellen. Diese befindet sich oben rechts auf dem Bildschirm. Haben Sie Fragen zum Envisense-Datenlogger? Bitte kontaktieren Sie info@envisense.de.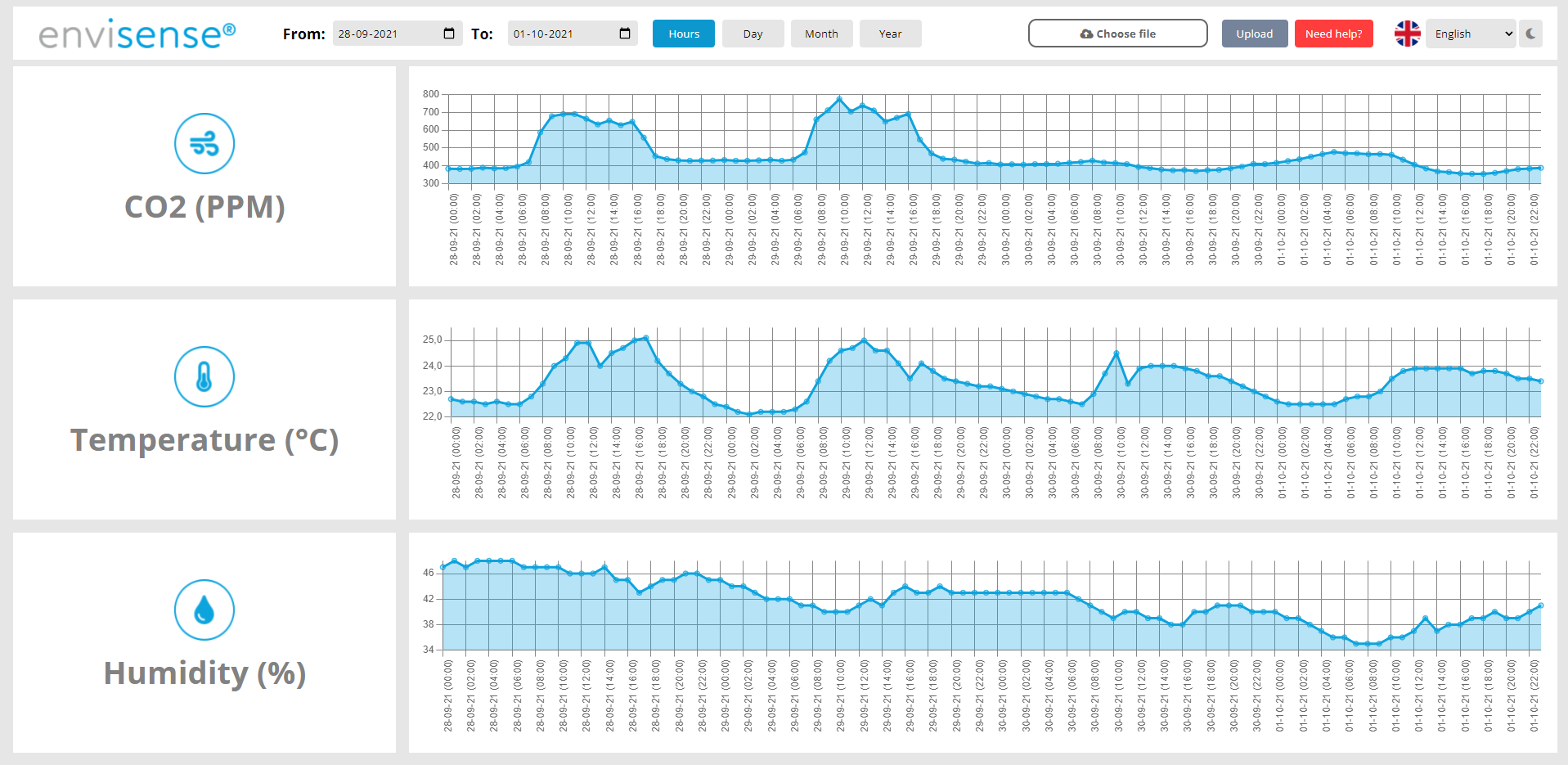 Möchten Sie die Daten Ihres EnviSense-Monitors löschen?
Um alle Daten von Ihrem EnviSense-Monitor zu löschen, schließen Sie den Monitor zunächst an Ihren Computer an. Rufen Sie die Datei "EnviSense" auf, die auch automatisch geöffnet wird, und löschen Sie die .csv-Datei mit dem Namen "Datalog". EnviSense erstellt eine neue Datei, wenn Sie den Monitor erneut verwenden.
Étape 1:
Connectez votre moniteur de CO2 et votre enregistreur de données Envisense à votre ordinateur à l'aide du câble fourni. Votre ordinateur indiquera automatiquement que votre enregistreur de données Envisense est connecté. Pour lire votre enregistreur de données Envisense, cliquez sur "choisir un fichier" dans le coin supérieur droit du tableau de bord.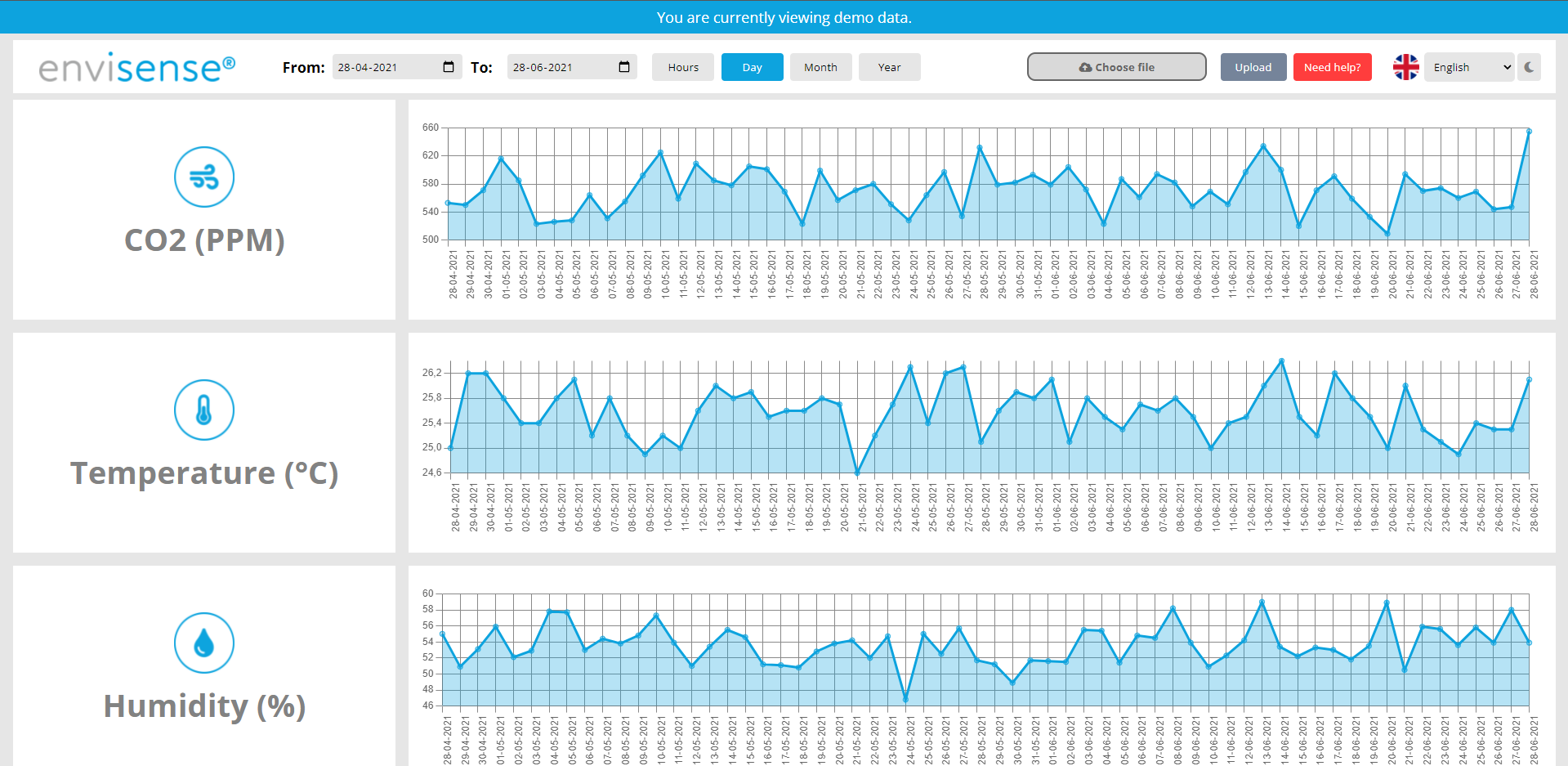 Étape 2:
Cliquez sur choisir le fichier et ouvrez le dossier (ENVISENSE) puis sélectionnez le fichier .csv nommé 'DATALOG'. Ce fichier contient toutes les données enregistrées sur la qualité de l'air mesurée. ATTENTION : Ne modifiez pas le fichier 'DATALOG' et téléchargez-le directement depuis le dossier 'ENVISENSE'.

Appuyez sur le bouton "Télécharger" et le tableau de bord sera rempli de toutes les données mesurées. Vous pouvez maintenant choisir la période que vous souhaitez lire en saisissant les heures de début et de fin. Vous avez un aperçu du niveau de CO2 (PPM), de la température (degrés Celsius) et de l'humidité relative (%). Le niveau de CO2 pour un climat intérieur sain se situe entre 350 et 800 PPM.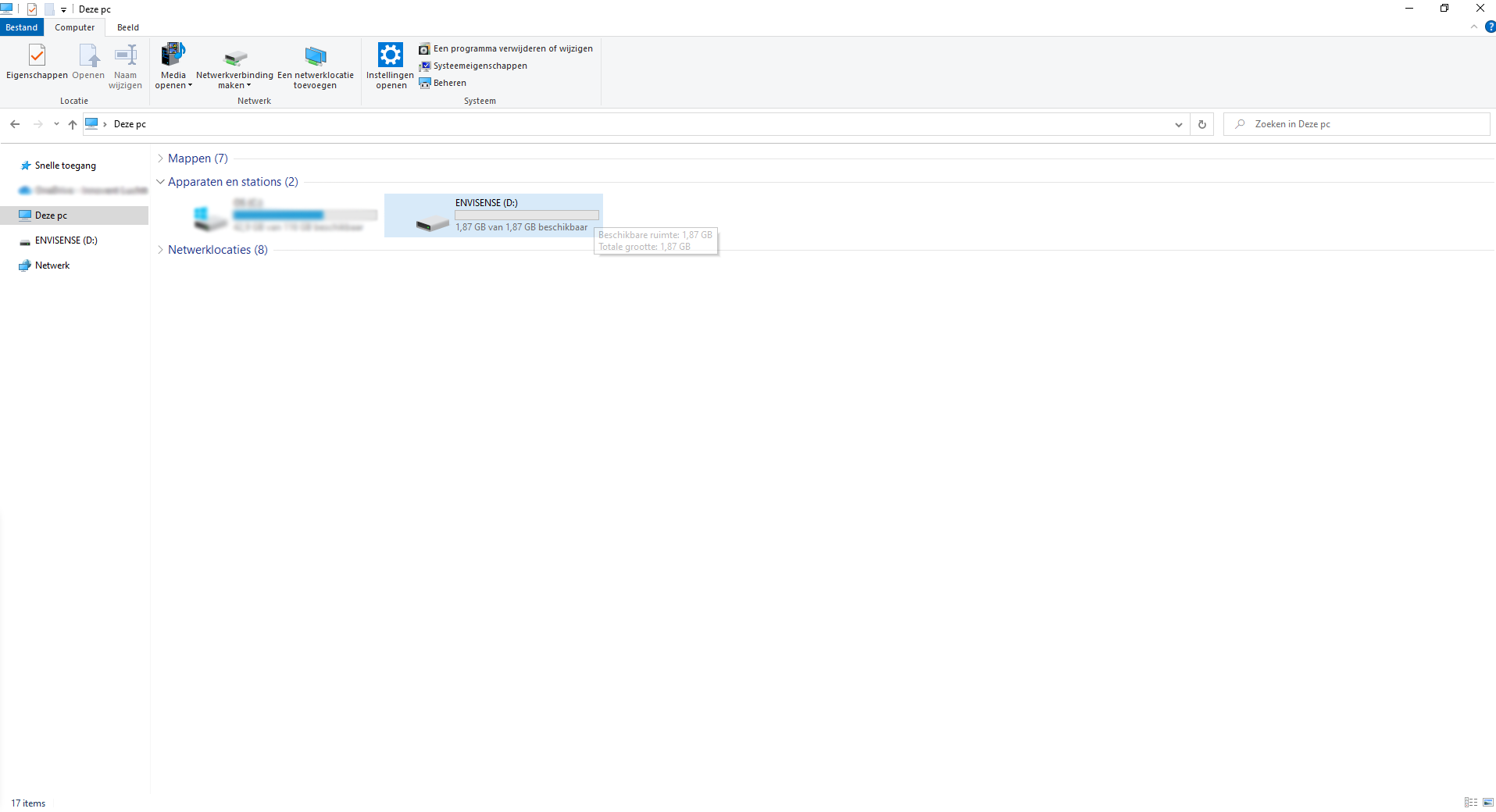 Étape 3:
Pour un aperçu détaillé, vous pouvez choisir l'affichage : heures, jours, mois et années. Vous avez également la possibilité d'ajuster le paramètre de la langue. Elle se trouve en haut à droite de l'écran. Avez-vous des questions sur l'enregistreur de données Envisense ? Veuillez contacter info@envisense.fr.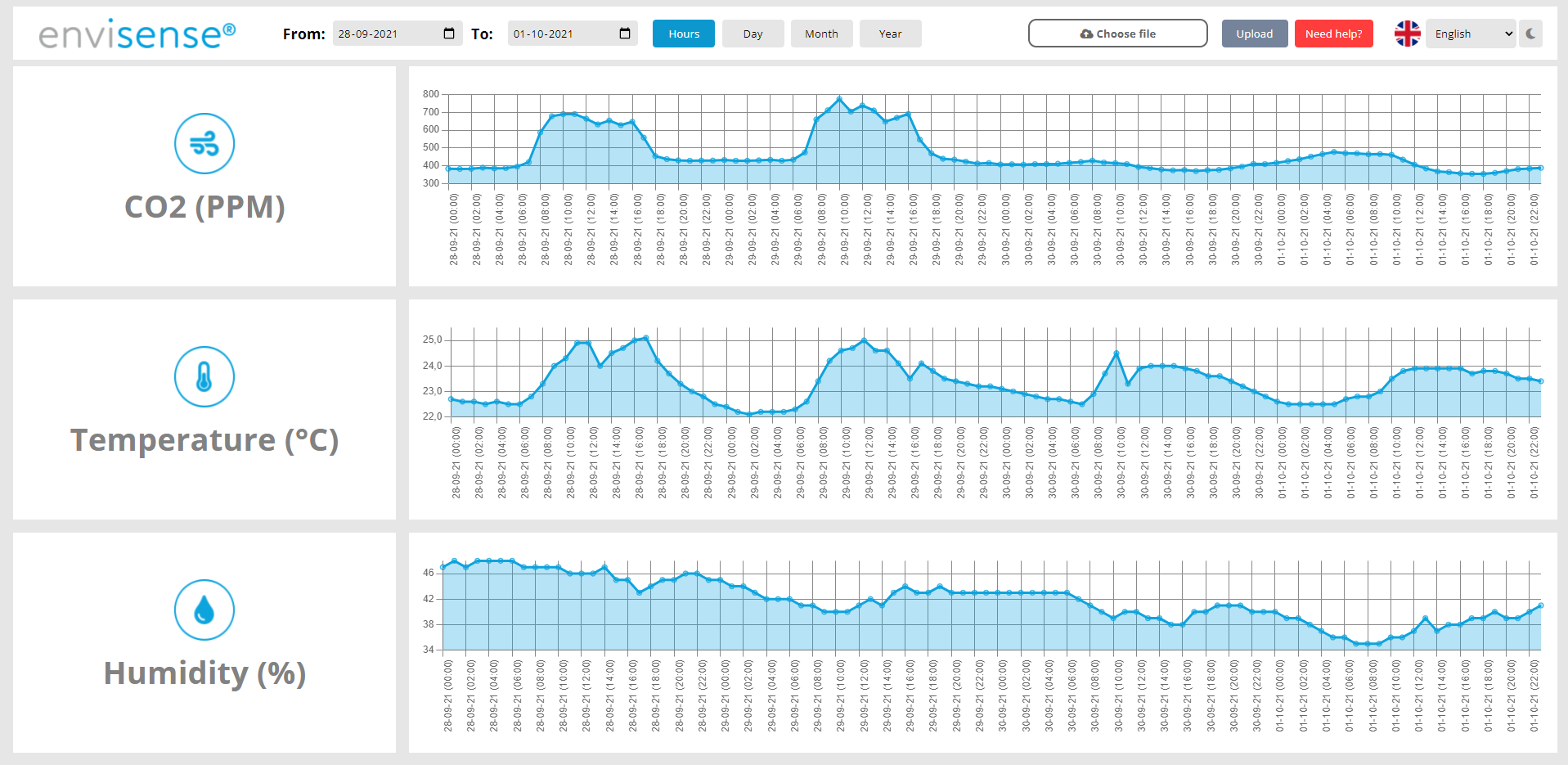 Souhaitez-vous supprimer les données de votre moniteur EnviSense ?
Si vous souhaitez supprimer toutes les données de votre moniteur EnviSense, connectez d'abord le moniteur à votre ordinateur. Allez dans le fichier 'EnviSense', qui s'ouvrira automatiquement, et supprimez le fichier .csv nommé 'Datalog'. L'EnviSense créera un nouveau fichier lorsque vous utiliserez à nouveau le moniteur.
Paso 1:
Conecte su 'Envisense CO2 Monitor and datalogger' a su ordenador con el cable suministrado. Su ordenador le indicará automáticamente cuando su datalogger Envisense esté conectado. Para leer su registrador de datos Envisense, haga clic en "elegir archivo" en la esquina superior derecha del tablero.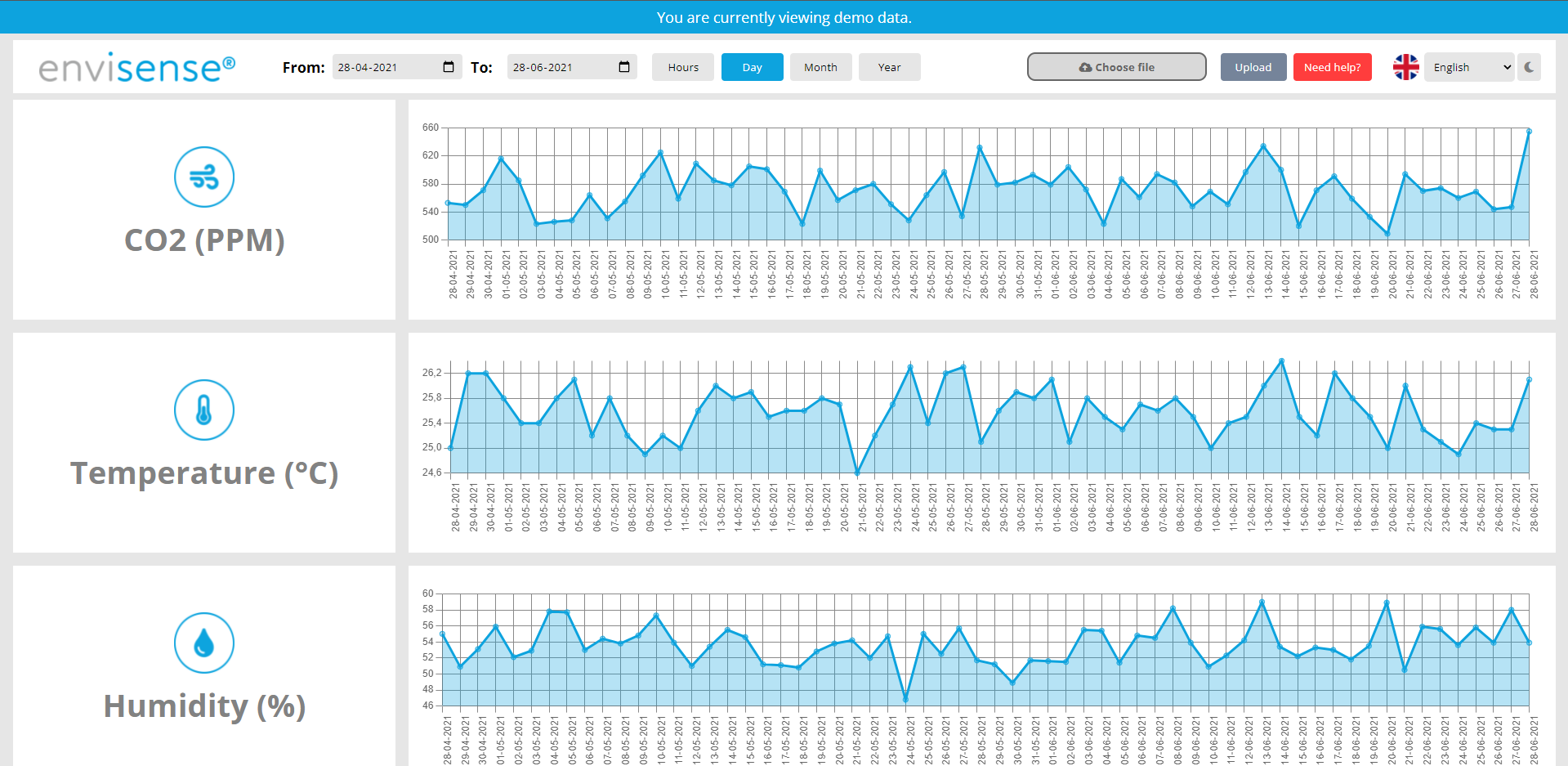 Paso 2:
Haga clic en elegir archivo y abra la carpeta (ENVISENSE) y luego seleccione el archivo .csv llamado 'DATALOG'. Este archivo contiene todos los datos almacenados de la calidad del aire medida. ATENCIÓN: No edite el archivo 'DATALOG' y cárguelo directamente desde la carpeta 'ENVISENSE'.

Pulsa el botón "cargar" y el tablero se llenará con todos los datos medidos. Ahora puede elegir el período de tiempo que desea leer introduciendo las horas de inicio y fin. Tiene una visión general del nivel de CO2 (PPM), la temperatura (grados centígrados) y la humedad relativa (%). El nivel de CO2 para un clima interior saludable está entre 350 y 800 PPM.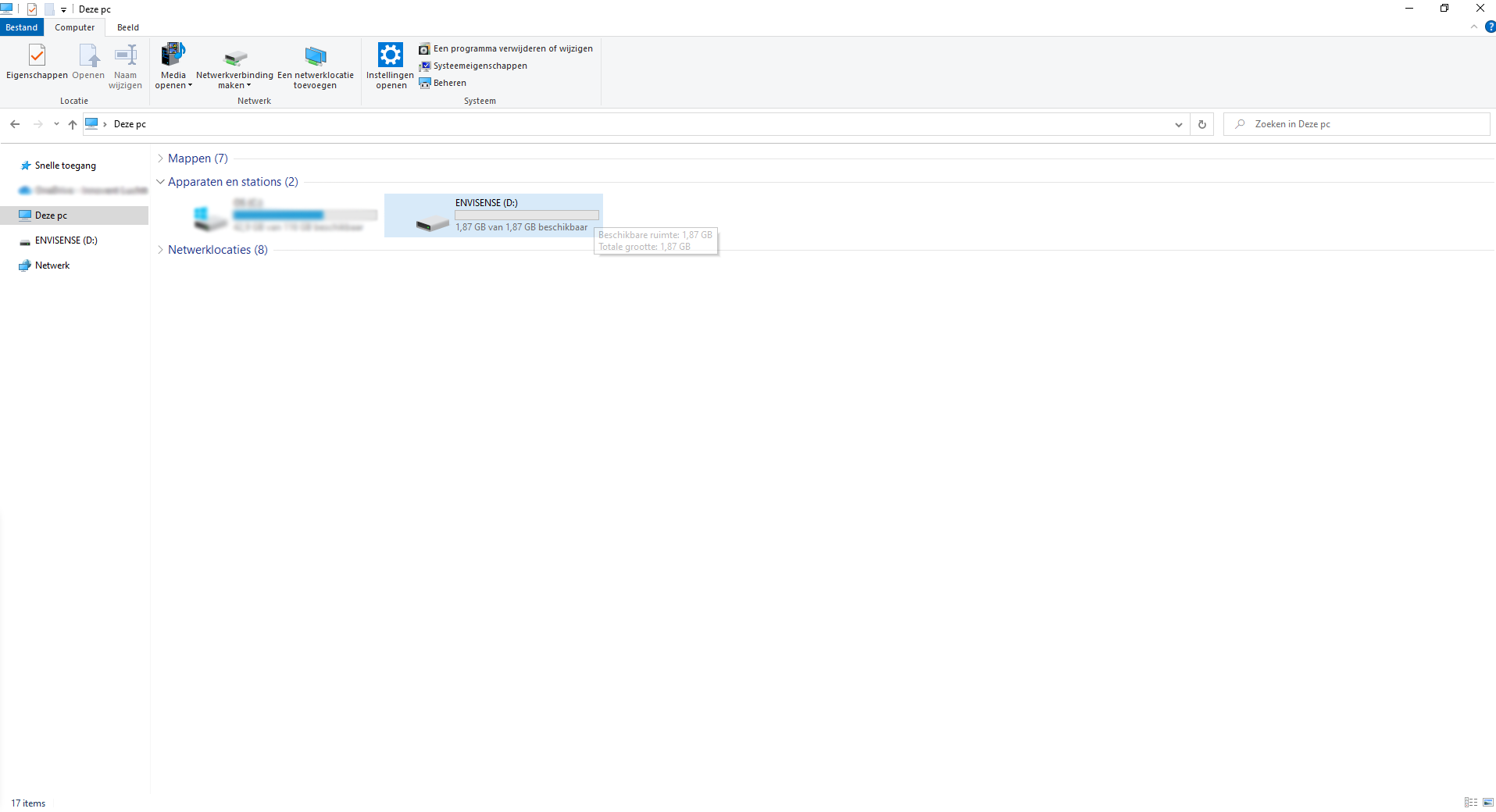 Paso 3:
Para obtener una visión detallada, puede elegir la visualización: horas, días, meses y años. También tienes la opción de ajustar la configuración del idioma. Se encuentra en la parte superior derecha de la pantalla. ¿Tiene alguna pregunta sobre el datalogger Envisense? Póngase en contacto con info@envisense.es.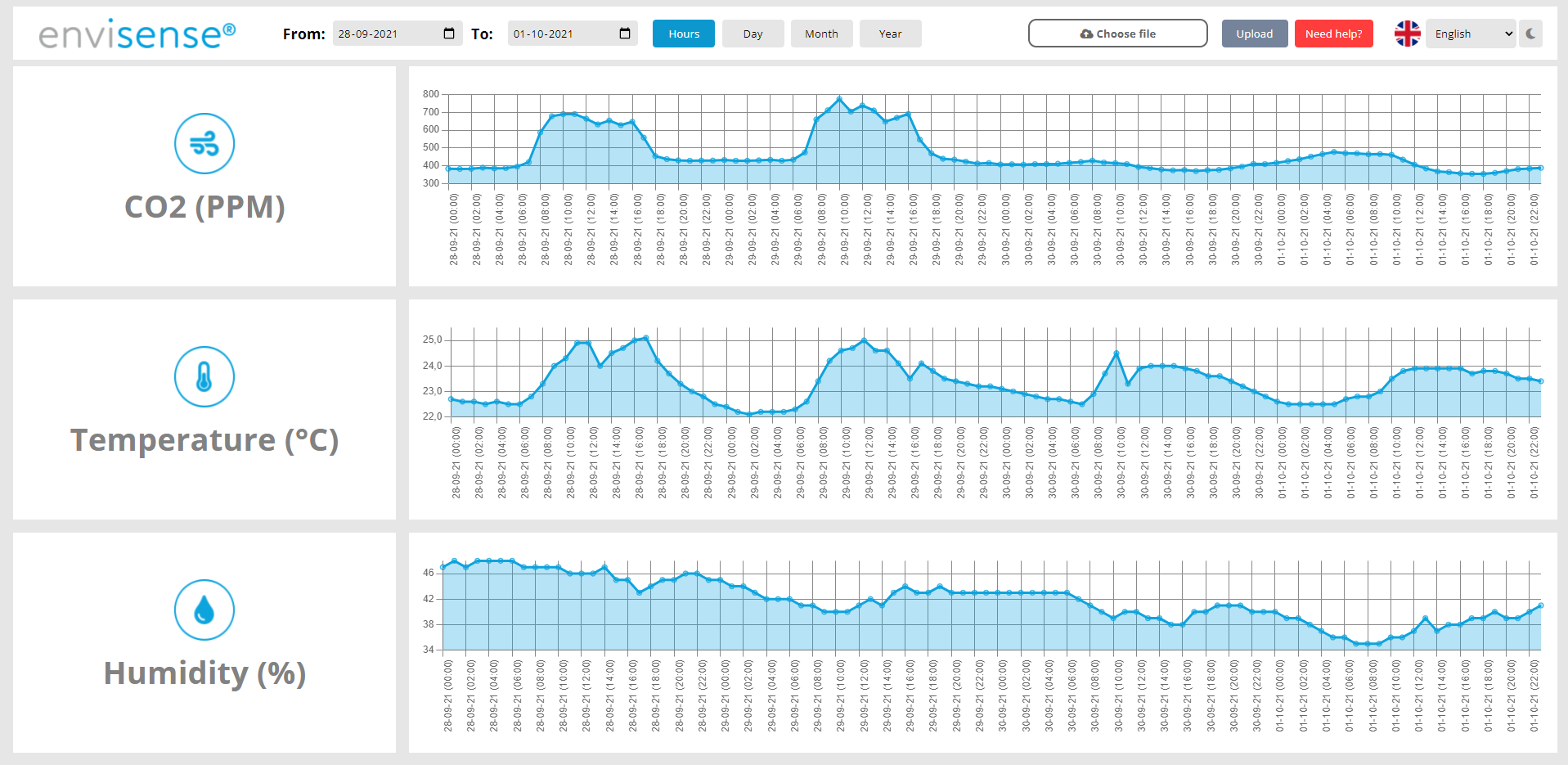 ¿Desea eliminar los datos de su monitor EnviSense?
Si desea eliminar todos los datos de su monitor EnviSense, conecte primero el monitor a su ordenador. Vaya al archivo 'EnviSense', que se abrirá automáticamente, y borre el archivo .csv llamado 'Datalog'. El EnviSense creará un nuevo archivo cuando vuelva a utilizar el monitor.
Passo 1:
Collega il tuo 'Envisense CO2 Monitor e datalogger' al tuo computer con il cavo in dotazione. Il computer indicherà automaticamente quando il datalogger Envisense è collegato. Per leggere il tuo datalogger Envisense, clicca su 'scegli file' nell'angolo in alto a destra del dashboard.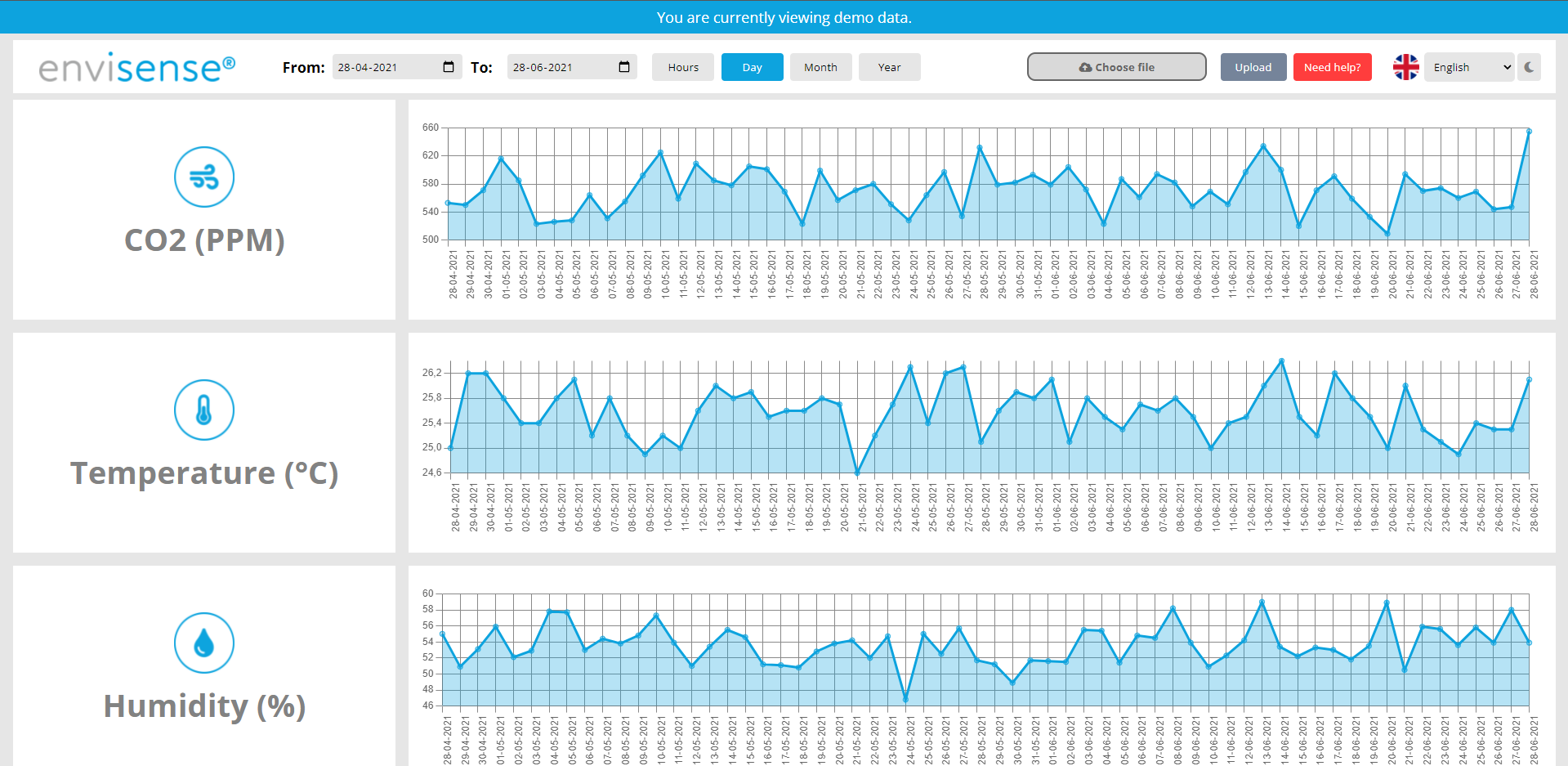 Passo 2:
Clicca su scegli file e apri la cartella (ENVISENSE) e poi seleziona il file .csv chiamato 'DATALOG'. Questo file contiene tutti i dati memorizzati della qualità dell'aria misurata. ATTENZIONE: Non modificare il file 'DATALOG' e caricarlo direttamente dalla cartella 'ENVISENSE'.

Premi il pulsante 'upload' e il cruscotto sarà riempito con tutti i dati misurati. Ora potete scegliere il periodo di tempo che volete leggere inserendo i tempi di inizio e di fine. Avete una panoramica del livello di CO2 (PPM), della temperatura (gradi Celsius) e dell'umidità relativa (%). Il livello di CO2 per un clima interno sano è tra 350 e 800 PPM.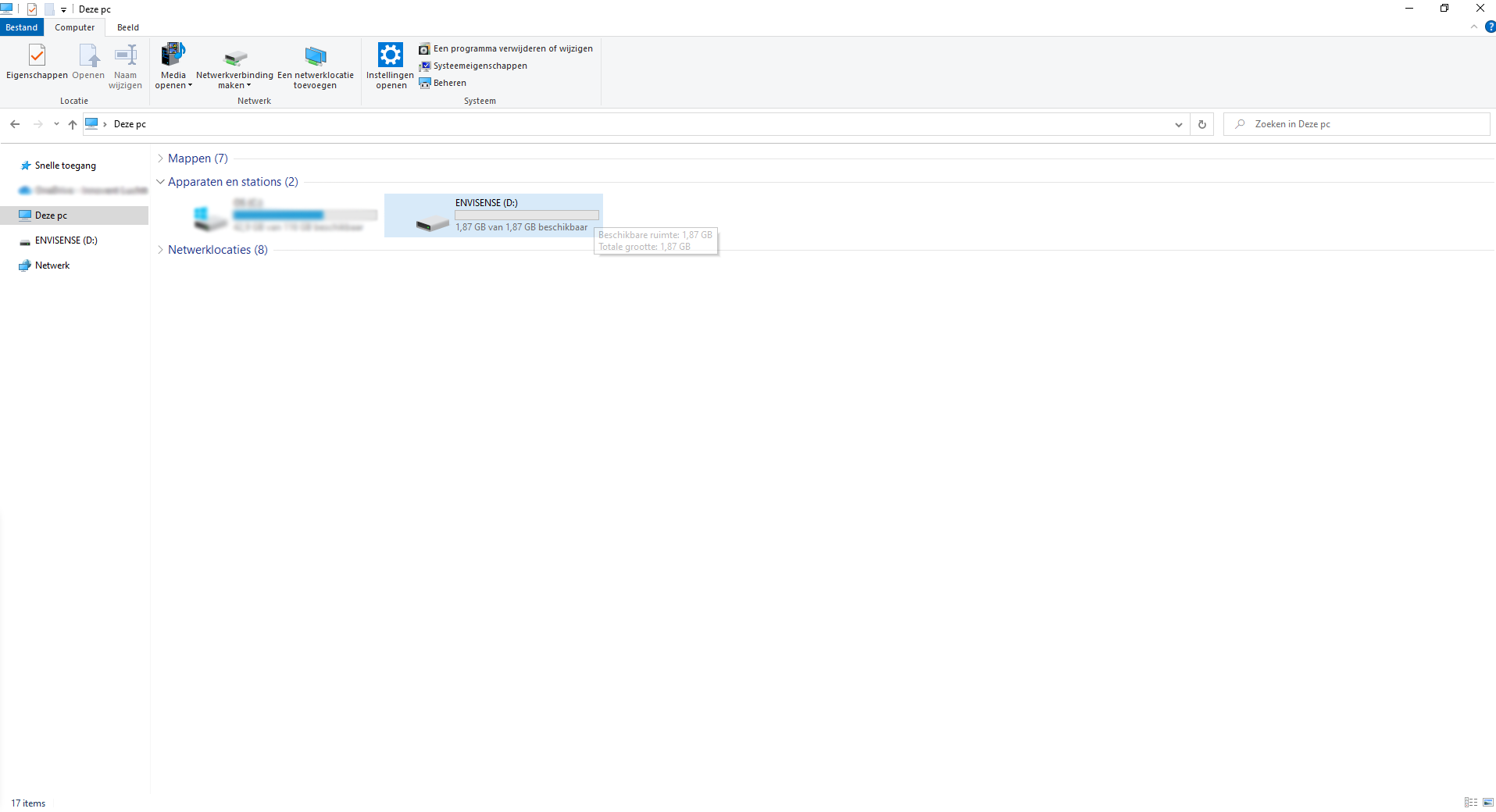 Passo 3:
Per una panoramica dettagliata si può scegliere la visualizzazione: ore, giorni, mesi e anni. Avete anche la possibilità di regolare l'impostazione della lingua. Questo si trova in alto a destra dello schermo. Hai qualche domanda sul datalogger Envisense? Si prega di contattare info@envisense.it.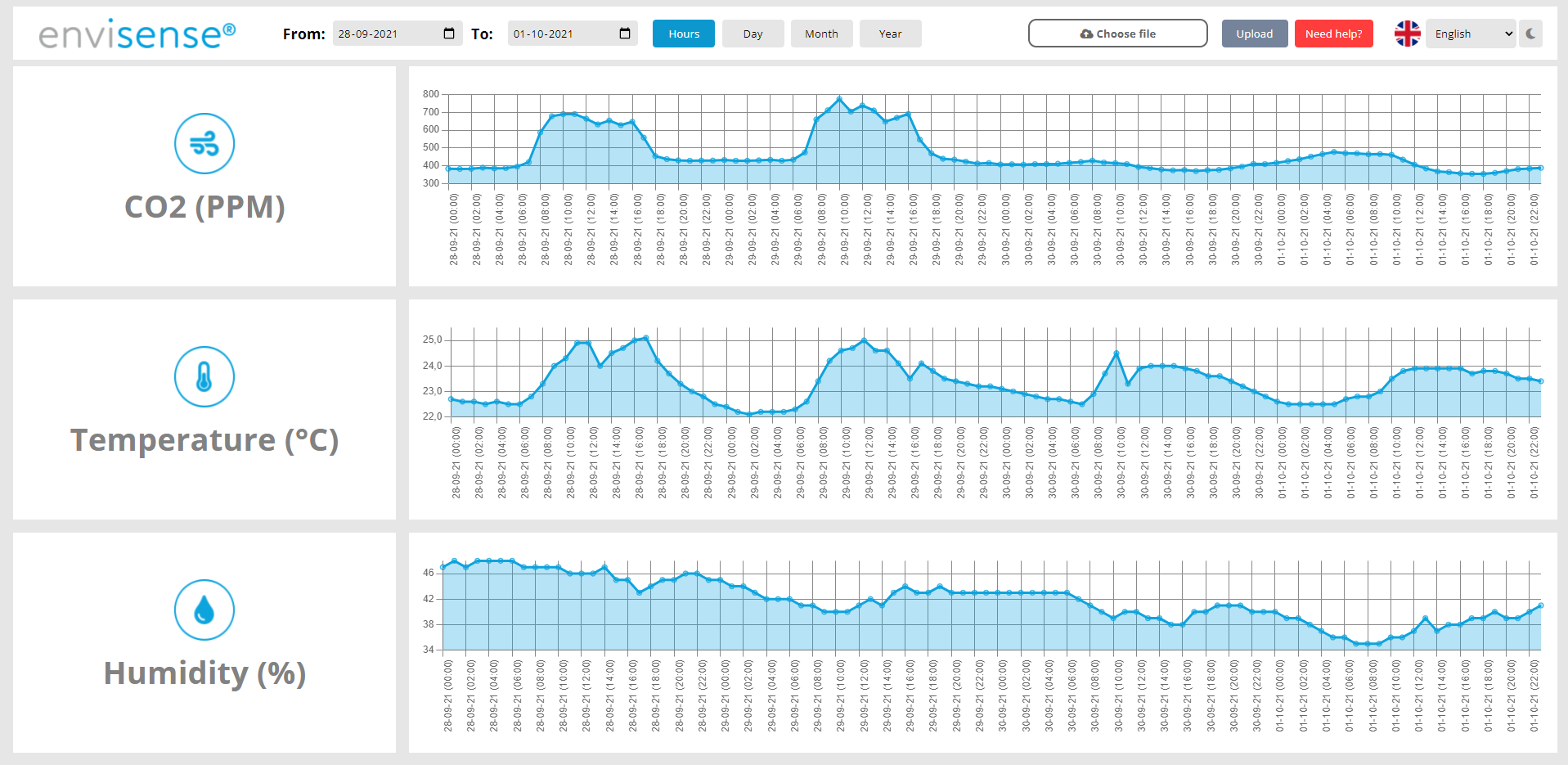 Vuoi cancellare i dati dal tuo monitor EnviSense?
Se si desidera cancellare tutti i dati dal monitor EnviSense, collegare prima il monitor al computer. Vai al file 'EnviSense', che si aprirà automaticamente, e cancella il file .csv chiamato 'Datalog'. L'EnviSense creerà un nuovo file quando userete di nuovo il monitor.
Krok 1:
Podłącz swój "Envisense CO2 Monitor i datalogger" do komputera za pomocą dostarczonego kabla. Twój komputer automatycznie wskaże, kiedy datalogger Envisense jest podłączony. Aby odczytać dane z dataloggera Envisense, kliknij na "wybierz plik" w prawym górnym rogu pulpitu nawigacyjnego.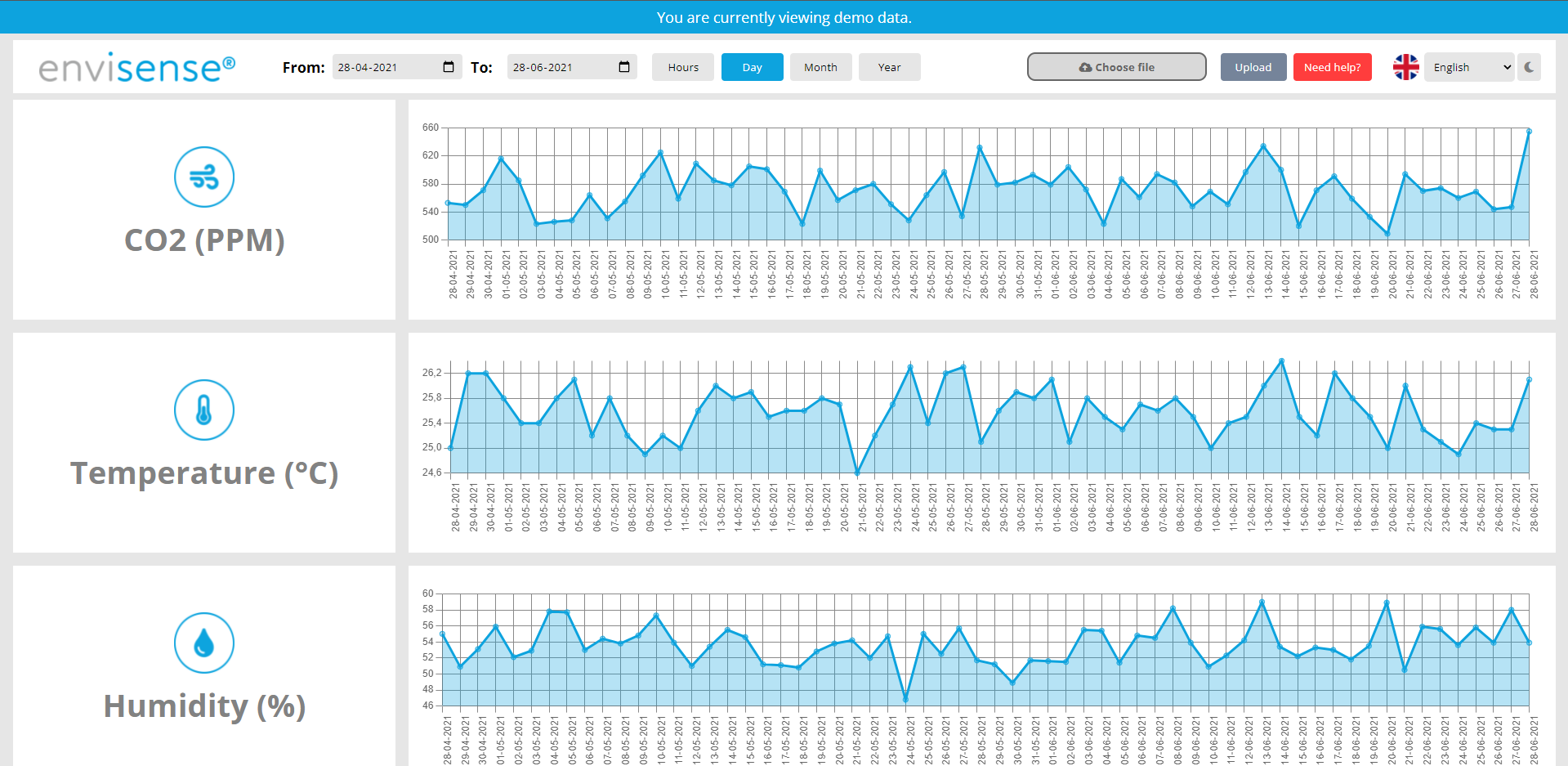 Krok 2:
Kliknij na wybierz plik i otwórz folder (ENVISENSE), a następnie wybierz plik .csv o nazwie 'DATALOG'. Plik ten zawiera wszystkie zapisane dane o zmierzonej jakości powietrza. UWAGA: Nie należy edytować pliku "DATALOG" i przesłać go bezpośrednio z folderu "ENVISENSE".

Wciśnij przycisk "wybierz", a na pulpicie nawigacyjnym pojawią się wszystkie zmierzone dane. Teraz można wybrać okres czasu, który ma być odczytany, wprowadzając czas rozpoczęcia i zakończenia. Mają Państwo wgląd w poziom CO2 (PPM), temperaturę (stopnie Celsjusza) i wilgotność względną (%). Poziom CO2 dla zdrowego klimatu w pomieszczeniach wynosi od 350 do 800 PPM.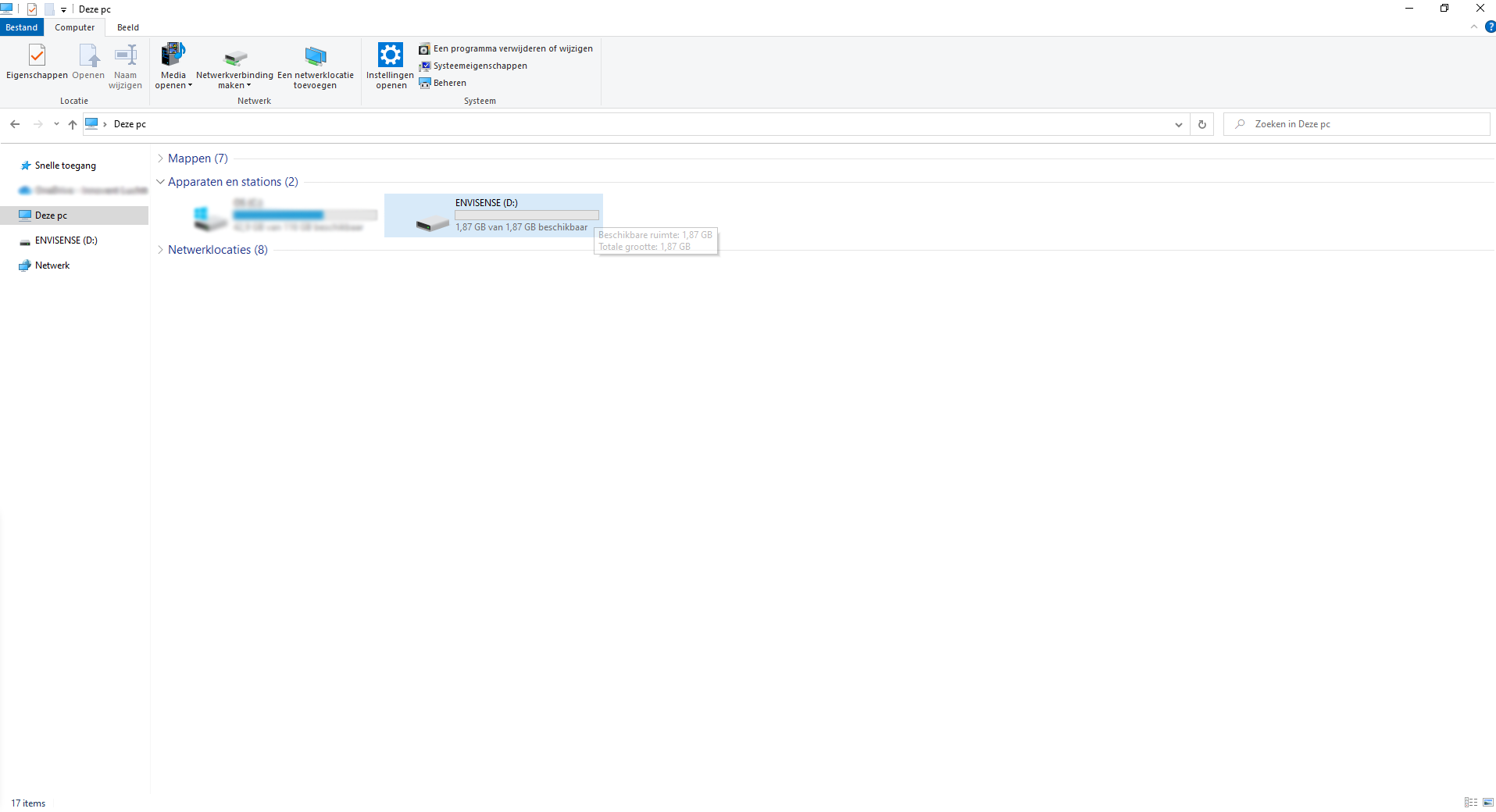 Krok 3:
Aby uzyskać szczegółowy przegląd, można wybrać wyświetlanie: godzin, dni, miesięcy i lat. Istnieje również możliwość dostosowania ustawień językowych. Można go znaleźć w prawym górnym rogu ekranu. Czy masz jakieś pytania dotyczące dataloggera Envisense? Prosimy o kontakt na adres info@envisense.pl.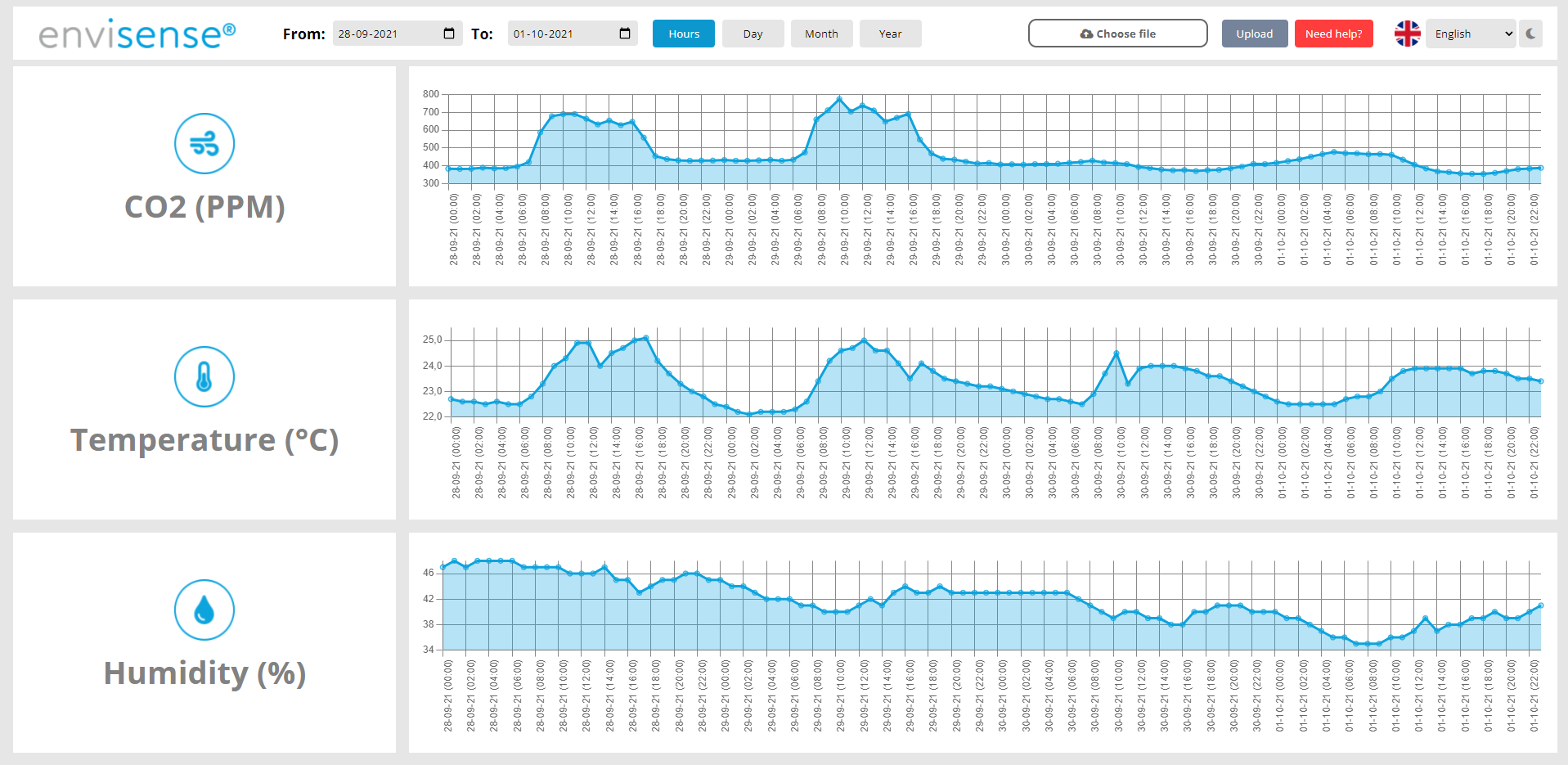 Czy chcesz usunąć dane z Twojego monitora EnviSense?
Jeśli chcesz usunąć wszystkie dane z Twojego monitora EnviSense, najpierw podłącz monitor do komputera. Przejdź do pliku 'EnviSense', który otworzy się automatycznie, i usuń plik .csv o nazwie 'Datalog'. EnviSense utworzy nowy plik, gdy ponownie użyjesz monitora.